Telemedicine Appointments Available Now
In an effort to ensure timely and safe care for our patients, we're pleased to announce the offering of Telemedicine at Optimotion Orthopaedics. Our providers will deliver the same excellent orthopaedic care to you in the comfort of your own home!
These visits are accessible from your phone or tablet or from a computer with a microphone and camera.
A representative will call you within 24 hours to schedule your virtual visit appointment, and to provide more information and to ease technology concerns.
How to Check in as a Patient for your Telemedicine Virtual Visit
To meet with your provider on Doxy.me, first you need to use Chrome, Firefox, or Safari browser. A webcam and microphone are also required. You can also meet with your provider using your smart phone.
Your provider will text or email you their personalized room link. It should look like doxy.me/OptimotionOrthopaedics.
To "check-in":
1. Type your provider's room address into your web address bar(e.g. https://doxy.me/OptimotionOrthopaedics) or click on the text message.

2. Enter your name, click "Check-In"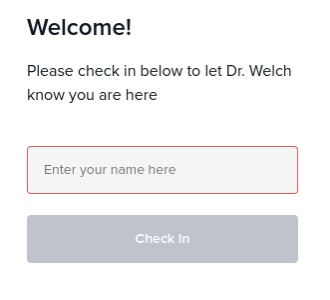 Checking in using Chrome
Checking in using Firefox
Checking in using Safari